Ferric Alum Slabs / Ferric Alum Powder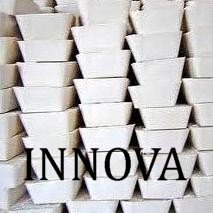 We offer a chemically balanced range of Ferric Alum Lumps Aluminium Sulphate that is used in various industrial processes. Ferric alum is a compound that is mostly available in form of lumps, kibbles or powder, which are soluble in water. This compound is also characterized by sweet taste, and non-combustible and non toxic nature. It has a molecular weight of 594 and pH level of minimum 2.8. This range is suggested to be stored in a dry place, avoiding eye and skin contact.
Ferric Alum Powder
We offer a quality range of Ferric Alum Powder that finds application in various industrial processes. To serve our clients with pure and excellent quality alum powder, we procure our chemicals from renowned vendors across the globe. We conduct various quality tests on this chemical at our quality testing unit to be sure that the composition of chemical abides by the industry standards.