Iron Removal Media / Birm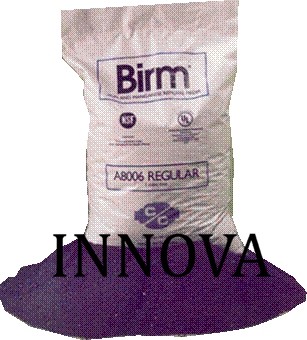 Birm Iron Removal is an economical and efficient filtration media designed to reduce dissolved iron and manganese compounds from water supplies

1. This media may be used in either pressurized or gravity fed water treatment systems.
2. Birm® acts as an insoluble catalyst to boost the reaction between dissolved oxygen (D.O.) and iron compounds.
3. Media Regeneration is not required
4. Iron removal efficiency is very high
5. Only periodic backwashing is required
6. Resilient material with a long life and wide temperature range.
Birm Media is an efficient and economical media for reduction of dissolved iron and magnesium compounds from raw water supplies. Birm is not consumed in the iron removal process. It has long material life and extremely high removal efficiency. Birm does not require chemicals for regeneration, only periodic backwash is required.

Conditions for operation:
1. Alkalinity should be greater than two times the combined sulfate and chloride concentration.
2. Maximum Water Temp: 100 F / 38 C
3. Water pH Range: 6.8 - 9.0
4. Dissolved Oxygen (DO) content must be atleast 15% of the iron (or iron and manganese) content
5. Bed Depth: 30-36 in
6. Freeboard: 50% of bed depth (min)
7. Backwash rate: 10-12 gpm/sq ft
8. Service flowrate: 3.5-5.0 gpm/sq ft
Influent and backwash limitations:
1. Free chlorine concentration less than 0.5ppm
2. Hydrogen sulphide should be removed prior to contact with Birm media
3. Oil: None present
4. Polyphosphates: None present
Physical Properties
Color : Black
Bulk Density : 40-45 lbs/cu ft
Mesh Size : 10x40
Specific Gravity : 2.0 gm/cc
Effective Size : 0.48 mm
Uniformity Coefficient : 2.71